RiskEase is a Microsoft Excel™ add-in program that provides risk analysis to spreadsheet models. RiskEase is useful in dealing with uncertainty in forecasting models or any other quantitative models in which some data values are uncertain. RiskEase can have many applications such as in project appraisal, marketing forecasts, business planning, econometrics, financial budgeting, project management and in many other fields in which variables and their relationships are modelled. RiskEase allows for the easy stipulation of probability distributions which encompass the uncertainty of the risk variables in such financial models and to simulate how the future main unfold by generating a number of scenarios based on those assumptions. The whole process thus facilitates and enhances the decision-making process. The decision is therefore taken while taking into consideration the impact of uncertainty.
RiskEase is a state of the art risk analysis program, which was originally developed under the name "RiskMaster for DOS" and "RiskMaster for Windows" for the Harvard University Program in Investment Appraisal and Management and has been used since 1987 by many reputable institutions around the world as part of their training courses in cost-benefit analysis. RiskEase builds upon the successful design of its predecessors and adds a host of new features that enhance both functionality and ease of use.
Latest version: RiskEase 5.x for Windows
Fully compatible with Excel versions 2010 to 2019
Click here to see the full system requirements

Contact us for educational pricing or site licenses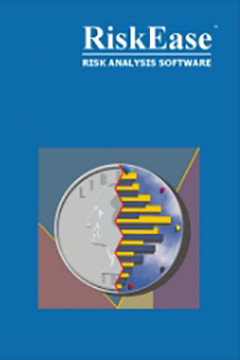 Easy to use point-and-click interface

Complete sensitivity analysis module

Powerful user interface for editing probability distributions with real-time display

Ability to bend, truncate and apply correlation conditions to probability distributions

Capability to fit probability distributions to user provided data

Probability distribution library

Optimization within simulation

Enhanced analysis module capable of comparing multiple simulation results

Ability to use the software in "real options" situations

Built-in report generator enabling the generation of professional reports

Many other features such as the use of default distributions, new chart formatting options
RiskEase Master Edition
Free Trial
After registering, you can download a free trial of RiskEase Master Edition. The free trial expires in 15 days and limits the user to 6 risk variables, 6 model results and 5000 simulation runs only. In every other respect it is the same as the full license version which has no limits.
---